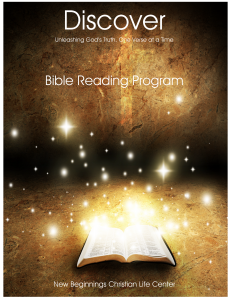 We welcome and invite you to "Discover" the riches of God's Word with us this year as we read through the Bible.
God's Word endures forever. No matter what the circumstances are, God's Word remains the same.
You can put your trust in the eternal Word of God. Through daily Bible reading you will be washed and renewed in your mind and spirit. You will be strengthened and guided by the power of the scriptures.
Join in with us as we set aside time each day to focus on God's Word. Don't allow other things to choke out time in the Word and fellowship with The Lord.
You will be transformed into the likeness of Jesus through the renewing of your mind.
To download your personal copy of the Bible Reading plan click here.
Continue in His Word,
Kevin & Leslie Wright
Senor Pastors